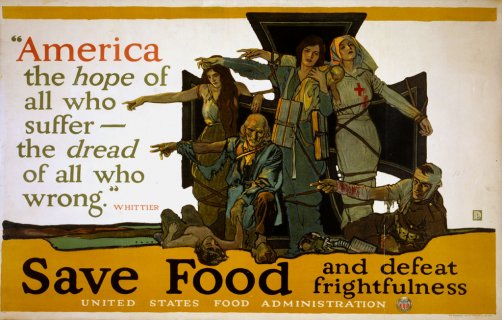 World War I Propaganda
Rather than adopting a national communications strategy, the government tailored their message to reach different communities.
The NWAC worked with high street businesses such as WH Smith to produce and distribute millions of pamphlets and postcards. While some focussed on portraying the enemy in a negative light, others emphasised the importance of British traditions and values.
Neighbouring towns were pitched into fundraising battles against each other to help pay for new tanks, by building on local rivalries and appealing to civic pride. This technique proved so successful that tanks were diverted away from the Western Front to help raise funds at home.
Realising that pro-war messages would sound better if they didn't all come from the government, the NWAC paid freelance contributors up and down the country to write impassioned articles for local newspapers.
One of the NWAC's most successful strategies was to organise a series of public rallies around the country. Winston Churchill was a popular speaker in affluent areas, but didn't always go down well with working class audiences.
In 1916, the film 'Battle of the Somme' gave audiences their best glimpse yet of life on the front line. It was the first time that many had seen anything other than short, staged newsreels. The NWAC made sure the film reached rural audiences: ten mobile cinemas took 'The Battle of the Somme' into the countryside, reaching 150, 000 people a week. It also invested in feature films that would promote the war as a just cause. The films were a runaway success: 22 million tickets were sold in just six weeks.
The NWAC didn't just produce and distribute its own marketing material – it tried to silence dissenting voices in the community. Local networks often knew in advance where Pacifist meetings would take place, and would organise rival patriotic gatherings at the same time. If this led to threats of violence against dissenters, then senior politicians could turn a blind eye. The semi-official nature of the NWAC, and the informal nature of its network of local contacts, made it harder to prove that the government was trying to stifle free speech.
See also:
You might also like
World War I: The Role of Propaganda
Propaganda in the United States during World War I
World War I Propaganda, England
Posters of World Wars I and II CD-ROM and Book (Dover Electronic Clip Art)


Book (Dover Publications)




ISBN13: 9780486996844
Notes: 100% Satisfaction Guarantee. Tracking provided on most orders. Buy with Confidence! Millions of books sold!

Uncle Sam says "I Want You" World War Two War Bond Poster 24x36 inches


Home (American Gift Services)




Heavy Weight Acid Free Paper
Archival Acid Free Inks
Fine Art Giclee Reproduction
World War Two
Military Recruiting Poster