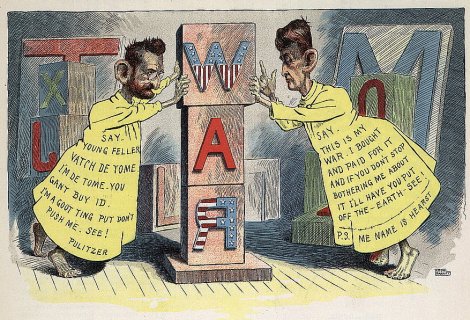 Media, and Propaganda
Though often defined as having opposite aims, means, and effects, modernism and modern propaganda developed at the same time and influenced each other in surprising ways. The professional propagandist emerged as one kind of information specialist, the modernist writer as another. Britain was particularly important to this double history. By secretly hiring well-known writers and intellectuals to write for the government and by exploiting their control of new global information systems, the British in World War I invented a new template for the manipulation of information that remains with us to this day. Making a persuasive case for the importance of understanding modernism in the context of the history of modern propaganda, Modernism, Media, and Propaganda also helps explain the origins of today's highly propagandized world.
Modernism, Media, and Propaganda integrates new archival research with fresh interpretations of British fiction and film to provide a comprehensive cultural history of the relationship between modernism and propaganda in Britain during the first half of the twentieth century. From works by Joseph Conrad to propaganda films by Alfred Hitchcock and Orson Welles, Mark Wollaeger traces the transition from literary to cinematic propaganda while offering compelling close readings of major fiction by Virginia Woolf, Ford Madox Ford, and James Joyce.
Review:
"Highly recommended. . . . [This] book is well planned, carefully constructed, and assiduously substantiated."-D. G. Izzo, Choice
"Wollaeger gives [the debate about art's relationship to propaganda] new purchase by stressing the emergence of modern propaganda . . . and by showing how the last century's propaganda outlets served as both a testing ground and a charger, a model, and a spur, for modernist innovation. . . . Modernism can help us resist propaganda today, Wollaeger suggests smartly, not because it has always kept its distance but because, from the beginning, it absorbed propaganda's tricks."-Rebecca L. Walkowitz, Modernism/Modernity
"Mark Wollaeger's sophisticated new book adds to the recent reshaping of our understanding of modernist-period media culture. . . . While one would expect such tours de force from Wollaeger, who is known for his work on Conrad and Joyce, it is his chapter on Ford Madox Ford that proves to be the volume's intellectual center."-Debra Rae Cohen, Clio
"While many critical studies of British literary modernism promise to reveal new ways to contextualize modernism, few deliver with such accomplished originality as Mark Wollaeger's Modernism, Media, and Propaganda. . . . Wollaeger's book is a model of exemplary scholarship that . . . aptly speaks to our historical moment."-Lissa Schneider, James Joyce Literary Supplement
"Mark Wollaeger's Modernism, Media, and Propaganda: British Narrative from 1900 to 1945 is written in an approachable style with an engaging and often amusing personal voice. . . . This is a book in which the historical contextualising so in trend at the present time is allowed to sit comfortably and rewardingly beside more 'traditional' close readings of canonical works."-Ayako Yoshino, Studies in English Literature-English Literary Society of Japan
good deeds list for advent
christopher columbus good deeds
kevin hart good deeds
good deeds soundtrack songs
benefits of doing good deeds
good and bad deeds
no good deeds movie times
tyler perry good deeds download
holiday good deeds
watch good deeds movie online
children doing good deeds
good deeds movie free online
god sees your good deeds
not so good deeds
good deeds tyler perry release date
tyler perry good deeds megashare
good deeds wireless
are trust deeds a good idea
good deeds examples for kids
good deeds soundtrack download
tyler perry good deeds movie poster
100 good deeds show
download good deeds
list of good deeds to do for others
chick fil a good deeds
trailer no good deeds
good deeds website
good deeds scholarship 2014
abraham lincoln good deeds
no good deeds movie poster
all good deeds movie
doing good deeds collage
good deeds done without kindness
comerical with people singing and good deeds
quotes about people who brag about good deeds
lacey chabert strip 10 good deeds
lucifer quote doing good deeds
[https://www.npr.org/2013/09/26/226498513/putting-good-deeds-in-headlines-may-not-be-so-good]
can you sleepwalk and do good deeds if you are forced to do bad in your waking life
__ "good deeds" is a major theme
good deeds celebrities do
one sin and a hundred good deeds choir
how to do good deeds in islam
good deeds bye people
the sims 4 doing good deeds for others
show kid turns into dog good deeds
good deeds gone wrong
what actions counted as good deeds in everyman
let us spur one another on toward love and good deeds.
dalai lama good deeds for others
broadway show where boy gets accolades for doing good deeds
thanksgiving good deeds
good people dirty deeds nazi
bible verse doing good deeds
word for does good deeds
quote punishment for good deeds
clifford's good deeds [book]
good deeds of kane of old guy baka
drunken irish soccer fans who rampaged all over france doing good deeds
moral orel god doesn't like it when you brag about good deeds
does god notice good deeds
ledger of good deeds
be careful to engage in good deeds
good deeds feedback
good deeds wall classroom
You might also like
Propaganda Terms In The Media And What They Mean
Media Propaganda, Controlling Public Opinion,Tea Party and ...
Peace Propaganda And The Promised Land: U.S. Media & the ...
MAINSTREAM MEDIA "LIES, MANIPULATIONS AND PROPAGANDA"!
Toronto Truth Seekers and media propaganda
The Propaganda Model and the Mainstream Media: Debate and ...