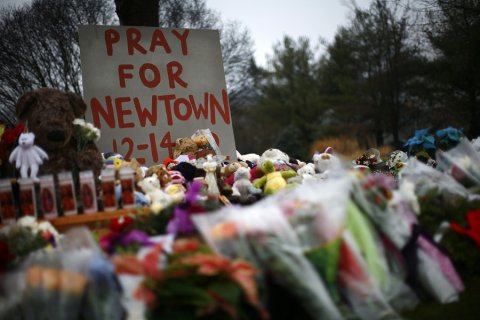 NPR on the Media
Fifth-graders from the Bradwell School of Excellence in Chicago's South Shore area wrote an op-ed piece for The Chicago Tribune this week, explaining how they see their neighborhood. Google hide caption
itoggle caption Google
Fifth-graders from the Bradwell School of Excellence in Chicago's South Shore area wrote an op-ed piece for The Chicago Tribune this week, explaining how they see their neighborhood.
Google
Tired of seeing their neighborhood portrayed in news reports as a desolate and violent place, fifth-graders in Chicago's South Shore area wrote what their teacher calls a "counternarrative." Their op-ed for, along with their teacher, Linsey Rose.
"It wasn't really hard to write it, " Rondayle says, "because I always try to see the good things out of bad. As a class we wrote it, and it inspired a lot of people. So, I'm really proud of myself."
The essay was published this week. In it, the 28 students talk about their futures and their friends — and, these being kids, they also mention candy and playing games.
Speaking with NPR's Scott Simon, Rondayle and Damiontaye read two excerpts. The first portion deals with the negative publicity their neighborhood gets:
"We saw your news trucks and cameras here recently and we read the articles, 'Six shot in South Shore laundromat' and 'Another mass shooting in Terror Town.' We saw the reporters with fancy suits in front of our laundromat. You spent less than 24 hours here, but you don't really know us.
"Those who don't know us think this is a poor neighborhood, with abandoned buildings everywhere, with wood covering the windows and broken doors. Those who don't know us see the police on the corner and think that we're all about violence and drugs."
The second portion is more about how the kids see themselves – and their home:
"We want you to know us. We aren't afraid. We know that man on the corner. He works at the store and gives us free Lemonheads. Those girls jumping rope are Precious, Aniya and Nivia. The people in the suits are people not going to funerals, but to church.
"If you listen, you'll hear the laughter and the chattering from the group of girls on the corner who are best friends and really care about each other. Do you see the smile on the cashier's face when the kids walk in? Why? Because this neighborhood is filled with love. This isn't Chi-raq. This is home. This is us."
Students Rondayle Sanders and Damiontaye Rodgers spoke to NPR's Scott Simon from Chicago this week. Linsey Rose hide caption
itoggle caption Linsey Rose
Students Rondayle Sanders and Damiontaye Rodgers spoke to NPR's Scott Simon from Chicago this week.
cincinnati craigslist pets
touchbar pets
craigslist atlanta pets
nh craigslist pets
small pets
craigslist nashville pets
knoxville craigslist pets
feisty pets
craigslist pets los angeles
craigslist st louis pets
craigslist albuquerque pets
house pets
pets stock
craigslist el paso pets
united pets
wonder pets theme song
craigslist okc pets
vip pets
fur real pets
denver craigslist pets
happiness is pets
pampered pets
octopus as pets
craigslist pets nashville
el paso craigslist pets
low maintenance pets
among us pets
osrs pets
the secret life of pets cast
pets for sale near me
adopt pets
cute pets
all pets animal hospital
bakersfield craigslist pets
pets palace
the wonder pets
secret life of pets cast
pets for adoption
craigslist kansas city pets
craigslist columbus pets
best carpet cleaner for pets
You might also like
Brooke Gladstone on Media Bias, The Future of Journalism ...
Inside Media: The NPR Ombudsman (Part 1)
Help On The Media Blow The Whistle
Vensmile (TM) Amlogic MX Dual Core XBMC Full Loaded Android TV BOX HDMI Streaming Media BOX 1G 8G 100 Addons


CE (Vsmart Digital)




Newest Android 4.2 with Dual Core CPU on your TV; 1G DDR3, 8GB Nand flash, support XBMC 13.2 Gotham, full HD 1080P video decoding and output. Built-in wifi, you...
Buil-in XBMC, 106 Add-ons
Enhance your home multimedia capabilities by simply connecting this Android 4.2 PC TV device to your TV to watch your favorite videos, music, play games, surf the...
With Remote Control in the Package Box,you can control the TV BOX through the Remote
Send with a Vensmile Phone Holder as gift; Plug this smart tv box, make you tv change to a android smart tv
Seagate STAK100 FreeAgent GoFlex Net Media Sharing Device


CE (Seagate)




Share your photos, music, and movies over the Internet without uploading
Access your digital files from any computer on your home network--PC or Mac--and from anywhere in the world
Listen to your music, watch your movies and access your content from iPhone, iPad, Blackberry or Android mobile devices
Works seamlessly with GoFlex ultra-portable drives and any USB storage device
The Influencing Machine: Brooke Gladstone on the Media
Mashable Media Summit: On The Media With NPR
Charlotte Laws on NPR "On the Media" Dec 2013
Netgear NeoTV Streaming Player (NTV200) (Old Model)


CE (Netgear Inc)




Stream Netfix, Vudu, CinemaNow, and YouTube Leanback to your TV.
Experience Wireless N 300Mbps speeds, others typically only go up to 150Mbps.
Use your iPhone or Android Smartphone as a remote control with our app (standard remote control also included).
Up to 1080P HD and 5.1 Dolby Digital Surround Sound.
Hundreds of entertainment channels and more being added constantly.

ICC Combo, Net Media Center, 14in


PC Accessory (Teledynamics)




Designed with steel construction, white powder coated, lightweight and sturdy.
Net Media. Center enclosure combos are not designed to be installed in firewall applications.
Designed with a door latch and an optional door lock knockout.
Dimensions: 17 Lx6 Wx17 H.
Weight: 12 lbs.

32GB MicroSDHC Memory Card for Cricket/Net10/Straightalk/U.S. Cellular HUAWEI Ascend 2 M865 Smartphone with Free USB MicroSD/SDHC Card Reader -- 32 G/GB/GIG 32G 32GIG


PC Accessory (Patriot)




Compatible With: HUAWEI Ascend 2 M865
Capacity & Type: 32GB MicroSDHC
Specifications: Complies with SD Association s Specifications
Certifications: CE/FCC/RoHS
Warranty: 5 Year Manufacturer s