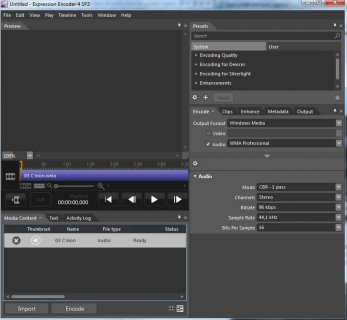 Microsoft Windows Media Encoder
Creating Your First Movie with Windows Movie Maker
Provides an initial analysis of the appropriate video creation tool to use for beginner moviemakers. This article then focuses on the Windows Movie Maker 2.1 user interface and key features. Encoding Audio and Video with Windows Media Codecs
Provides information on creating higher-quality digital media content using Windows Media codecs. Introduction to Windows Media Metafiles
Describes how to use client-side metafiles with Windows Media Player to provide metadata and playback instructions for digital media files. Reducing Broadcast Delay
Describes broadcast delay, and discusses how to minimize the size of buffers in Windows Media technologies to reduce this delay. Using the Windows Media Player 9 Series HTMLView Feature
Describes the HTMLView feature in Windows Media Player 9 Series that lets Internet content providers (ICPs) use the Now Playing feature of Windows Media Player to display Web-based content while digital media content is playing. VC-1 Technical Overview
Provides an overview of VC-1 and details its status as an established open standard. Comparative information is given to demonstrate how well VC-1 compares to two other codecs in use today, H.264 and MPEG-2.
Hosting and Infrastructure
Get tips about hosting content on a Windows Media server or Web server, and learn how to set up a streaming-media system.
Caching and proxying content with Windows Media Services
Describes how to use Windows Media Services to configure your Windows Media server as either an origin server or as a cache/proxy server to conserve bandwidth, decrease network-imposed latency, and offset the load on the origin server on your network.
Checking Server Performance with Windows Media Load Simulator
Describes how to use Microsoft Windows Media Load Simulator for testing a new Windows Media server system and monitoring performance after the server goes online. Delivering IPTV with the Windows Media Platform
Describes how the Windows Media platform can be used to deliver television over a broadband IP network.
Download white paper
(166 KB 1 min @ 28.8 Kbps)
Logging Model for Windows Media Services
Provides a technical overview of logging in Windows Media Services. The information in this article supplements the information covered in Windows Media Services Help and the Windows Media Services Software Development Kit (SDK). Optimizing Windows Media Services
This article describes performance tests that were recently conducted in a controlled lab environment and includes tuning recommendations that will help you to achieve optimal performance from your Windows Media server. Sourcing Content from Remote Storage
Describes remote storage solutions that you can use for the content hosted on a server running Windows Media Services. Using URL Modifiers
Describes how to use URL modifiers to control how players and distribution servers receive a stream and how to increase the reliability of a live stream by using URL modifiers in the path to the primary encoder. Windows Media Services Deployment Guide
You might also like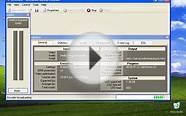 Tutorial Video Windows Media Encoder 9 in StreamingHosting.tk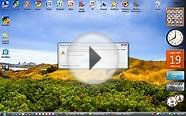 02 WME Using Windows Media Encoder to capture screen and sound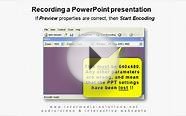 How to Record PowerPoint with Windows Media Encoder
Microsoft Expression Encoder 2 Upgrade


Software (Microsoft Software)




Encode a wide array of file-based media content, including QuickTime, AVI, MPEG and more using the designer friendly Expression-standard user interface
Produce live webcasts with multiple live and file-based sources which can be mixed and switched in real-time for streaming and simultaneous archive
Customize your media assets by adding pre-roll and post-roll advertising, animated watermarks, crop, scale, and more; include metadata and polish your content with...
Deliver high quality VC-1 content wrapped in a Silverlight player template directly from Expression Encoder 2
Take advantage of multi-core and multiprocessor optimized codecs to get the highest quality result in a hurry
Microsoft Expression Studio 2


Software (Microsoft Software)




Expression Design 2 lets you create assets and use them with Expression Blend 2 to design user interaction for a new wave of expressive Windows applications
Adhere to today s Web standards using built-in support for XHTML, CSS, XML, and XSLT; design sites that work on any browser
Use Expression Media Encoder 2 to enhance and publish rich video experiences for both Windows and Mac
With support for more than 100 media formats, Expression Media 2 makes managing your digital universe a snap
Expression Studio 2 brings design and development together--design elements like video, 3D models, and vector art are combined with full support for the latest Microsoft...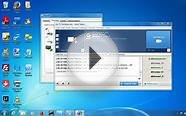 How I Setup Windows Media Encoder 9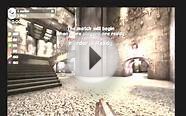 Windows Media Encoder 9 test capture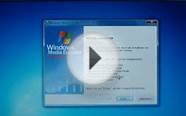 Windows 7 - Windows Media Encoder 9 Instalation
Zxp3 1/S Usb,Us Cord, Mag Encoder, Ethernet, Media Kit (Part#: Z31-0M0CH200US00 ) - NEW


PC Accessory (Zebra)




Product Series: ZXP| Product Name: ZXP Series 3 Card Printer Single Sided| Marketing Information: Compact and easy to use, the affordable ZXP Series 3 direct-to-card...
Maximum Mono Print Speed: 4.8 Second| Maximum Color Print Speed: 20 Second| Maximum Print Resolution: 300 dpi| Bar Code Symbology Supported: Code 39| Bar Code Symbology...
Features: Auto-calibration| Standard Memory: 32 MB| USB: Yes| Ethernet: Yes| Ethernet Technology: Fast Ethernet| Display Screen Type: LCD| Media Type: PVC Card|...
Input Voltage: 220 V AC| Form Factor: Desktop| Height: 9.3| Width: 7.9| Depth: 14.5| Weight (Approximate): 12.19 lb| Package Contents: ZXP Series 3 Card Printer...
Limited Warranty: 2 Year

MP3 Station Plus 2003! - eJay


Software (Digital Leisure, Inc.)




Fast MP3¿ Encoder ¿ quick and unlimited conversion to MP3 at unbeatable quality
Quick copy function ¿ duplicate audio CDs with just one click of a button
MP3 Writer- write your own audio or MP3 compilations direct to CD-R
Play list Manager ¿compile, organize and save individual play lists of your favorite songs
MP3 Studio ¿ play, archive and rip music files and burn them to CD

Media Player Software DVD AVI MP3 Professional + Bonus


Software (Direct Software)




It can play almost any video format
It behaves as an advanced DVD player
Full screen option
Various themes and skins
t can be used over other windows, allowing you to access different programs while listening or watching