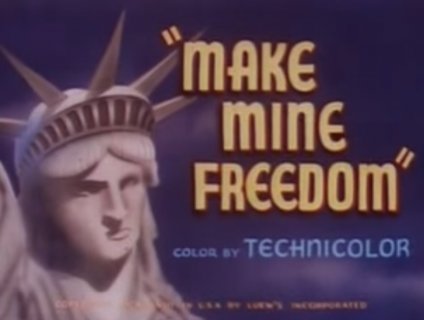 Propaganda Films
A propaganda film is a film that involves some form of propaganda. Propaganda films may be packaged in numerous ways, but are most often documentary-style productions or fictional screenplays, that are produced to convince the viewer of a specific political point or influence the opinions or behavior of the viewer, often by providing subjective content that may be deliberately misleading.
Propaganda can be defined as the ability "to produce and spread fertile messages that, once sown, will germinate in large human cultures." However, in the 20th century, a "new" propaganda emerged, which revolved around political organizations and their need to communicate messages that would "sway relevant groups of people in order to accommodate their agendas". First developed by the Lumiere brothers in 1896, film provided a unique means of accessing large audiences at once. Film was the first universal mass medium in that it could simultaneously influence viewers as individuals and members of a crowd, which led to it quickly becoming a tool for governments and non-state organizations to project a desired ideological message. As Nancy Snow stated in her book, Information War: American Propaganda, Free Speech and Opinion Control Since 9-11, propaganda "begins where critical thinking ends."
Film as a propaganda tool

[edit]

Film is a unique medium in that it reproduces images, movement, and sound in a lifelike manner as it fuses meaning with evolvement as time passes in the story depicted. Unlike many other art forms, film produces a sense of immediacy. Film's ability to create the illusion of life and reality, opening up new, unknown perspectives on the world, is why films, especially those of unknown cultures or places, are taken to be accurate depictions of life.

Some film academics have noted film's great illusory abilities. Dziga Vertov claimed in his 1924 manifesto, "The Birth of Kino-Eye" that "the cinema-eye is cinema-truth." To paraphrase Hilmar Hoffman, this means that in film, only what the camera 'sees' exists, and the viewer, lacking alternative perspectives, conventionally takes the image for reality.

Films are effective propaganda tools because they establish visual icons of historical reality and consciousness, define public attitudes of the time they're depicting or that at which they were filmed, mobilize people for a common cause, or bring attention to an unknown cause. Political and historical films represent, influence, and create historical consciousness and are able to distort events making it a persuasive and possibly untrustworthy medium.
You might also like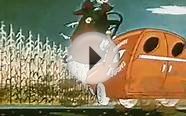 American Propaganda Films - A Is For Atom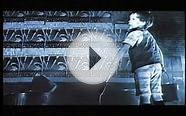 Propaganda Films by David Fincher & Bobby Woods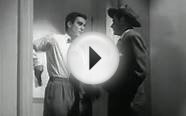 American Propaganda Films - Drug Addiction (1951) part 1
Dictionary of Quotations from Ancient and Modern, English and Foreign Sources: Including Phrases, Mottoes, Maxims, Proverbs, Definitions, Aphorisms, ... Speculation, Science, Art, Religion, an
Book (Nabu Press)
WAWO Samsung Galaxy S6 Case, PU Leather Wallet Flip Cover Case with Credit Card ID/Pocket Money Slot for Samsung Galaxy S6 - Black


Wireless (WAWO)




Exclusively Designed for Samsung Galaxy S6
Stylish folio-type flip wallet case with PU leather
Slim and perfect fit with a perfect lightweight design
2 card slots and cash crib to put your essential ID and cards and some pocket money
Protect your phone from everyday bumps, scratches, marks and dust.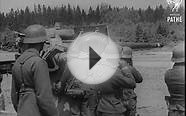 German Propaganda Films (1941)
American Propaganda Films - Capitalism
URPOWER® 10000mAh High Capacity Dual-Port USB Charger Power Bank Backup External Portable Mobile Battery Pocket Extensive Charger for iPhone 6 Plus,iPhone 6, iPhone 5s, 5c, 5, 4s, 4, 3gs, iPad 4, iPad Air, the New iPad, iPad Mini; Samsung Galaxy S5, S4, S3, S2, Note 4, Note 3, Note 2; HTC One, Evo, Droid Dna, Motorola Atrix, Droid, Google Glass, Nexus 4, LG Optimus,smart Watch,bluetooth Speakers or Headsets and Other Usb-charged Device (Apple Lightning Adapter NOT included)


Toy (URPOWER)




US free shipping,high quality,100% new, 4 capacity indicators for battery status,the appearance of fashion,LED light
High performance mAh external mobile battery charger fits for most digital devices
It is easy to carry, goe worry about your business trip/travelingod assistant
Stylish & portable design,perfect for long plane flights, road trips; Carry the power wherever you go; charge your devices any time any where
Security protection design: short-circuit and over current protection; The device will automatic shutdown when short circuit or overload output happened to avoid...

TaoTronics Humidifier Home Ultasonic Cool Mist (with Constant Humidity Mode, Mist Level Control, Timing Settings, Built-in Water Purifier, LED Nightlight, Zero Noise)


Health and Beauty (Humidifier)




Microporous Cartridge - filters the water from micro-organisms, calcium, and magnesium ions for a healthier mist
Tailored to your home: set humidity level and control the amount of mist. Designed to humidify the air in rooms up to 538 sq ft (50m²)
Over a gallon capacity and15 hour working time on a full tank of water will last well into the night
Ultrasonic humidifiers are incredibly silent so it will never disturb you
Others: Built-in timer; LED display; sleep mode; and a 360 degree rotatable nozzle

RAVPower Luster Mini 3000mAh Portable Charger Lipstick-Sized External Battery Pack Power Bank Charger,Fast Charging (Ultra Bright Flashlight with High/Low/Strobe Modes, 5V/1A Output) for iPhone 6,6 plus, 5S, 5C, 5, 4S, 4, iPod(Lightning Cable not Provided); Samsung Galaxy S5, S4, S3, S2, Note 2; Nexus 5, Nexus 4, HTC Sensation, One X V One X V S, EVO 4G, Thunderbolt; Nokia Lumia 1020, 920 900 N9; Motorola Razr; LG Google Nexu 4 and other Android & Apple Device, Smart Phones, Tablets (Gold)


Wireless (RAVPower)




Add more than a full charge or 9 hours of additional talk time to your iPhone 5 / 4 / 4S / 3G / 3GS. On most other phones, benefit from 1 full charge or 91+ hours...
Duo purpose design: Power bank and a flashlight.
Stylish, lipstick-shaped, lightweight design (4.17 x 0.9 x 0.9in, 2.57oz) fits easily into any pocket or bag.
Constructed using Grade A cells and premium microchips to ensure the highest quality. Charge time: 3-4 hours via AC 1A adapter (not included).
Package contents: RAVPower 3mAh External Battery, Micro USB cable, welcome guide, 12-month hassle-free warranty.(Apple Adapters- 31 pin and Lightning, NOT Included).