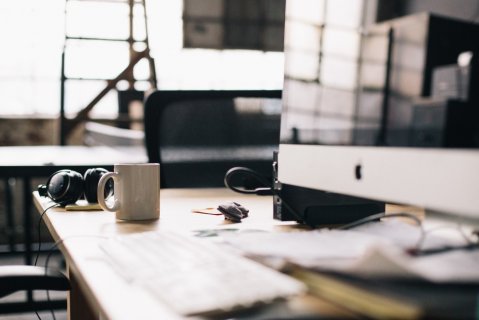 Print Stylesheets
A print stylesheet formats a web page so when printed, it automatically prints in a user-friendly format. Print stylesheets have been around for a number of years and have been written about a lot. Yet so few websites implement them, meaning we're left with web pages that frustratingly don't properly print on to paper.
It's remarkable that so few websites use print stylesheets as:
Print stylesheets enormously improve usability, especially for pages with a lot of content (such as this one!)
They're phenomenally quick and easy to set up
Some websites do offer a link to a print-friendly version of the page, but this of course needs to be set up and maintained. It also requires that users notice this link on the screen, and then use it ahead of the regular way they print pages (e.g. by selecting the print button at the top of the screen). Print-friendly versions are however useful when printing a number of web pages at the same time such as an article that spans on to several web pages.
How to set up your print stylesheet
A print stylesheet works in much the same way as a regular stylesheet, except it only gets called up when the page is printed. To make it work, the following needs to be inserted into the top of every web page:
The file, print.css is the print stylesheet, and the media="print" command means that this CSS file only gets called up when web pages are printed. (There are many different media you can use for stylesheets, such as for handheld, TV, projection etc. - see a full list of media types for more.)
What to put in your print stylesheet
The CSS commands in the print stylesheet essentially override the CSS commands in the main stylesheet. As such, the only commands you need to put in the print stylesheet are ones to override the CSS commands in the main stylesheet. This means you don't need to repeat any colour or branding CSS commands as they'll already be taken from the main stylesheet.
Generally speaking, you'll want your print stylesheet to make the following happen when users hit that print button:
Remove unwanted items
Usually it's just your organisation logo and page content that you'll want to appear on the printed version of the web page. You'll normally want to remove the header, left column and right column. You may also want to remove the footer (or some of it) from the printed version, unless it contains your contact details.
You might also like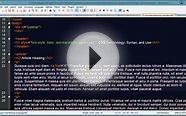 Create a Print-friendly Stylesheet for Printable Web Pages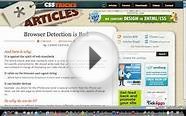 Screencast #52: Building a Print Stylesheet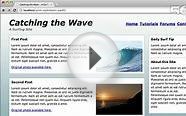 CSS Tutorial_ Print Stylesheets_ Part 2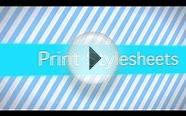 Doctype - Episode 47 - Print Stylesheets & Head JS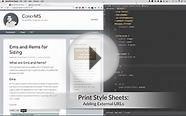 CSS Tips and Tricks: Add External URLs to Print Stylesheets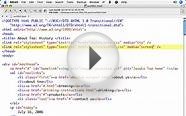 CSS - Creating a print stylesheet