Yahoo ad Network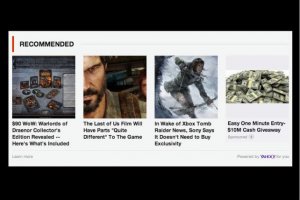 Yahoo's content recommendation box places its native ads on others' sites.
Yahoo is bringing its native ads to other publishers' sites.
Last year Yahoo adopted the low-hanging-fruit version of native advertising, a form of ad that aims to mirror surrounding editorial content. Unlike BuzzFeed's sponsored listicles or The New York Times' brand-penned posts, Yahoo's native "Stream Ads" more closely resemble Facebook's Sponsored Stories in that they refashion display ads as content links within its sites' content streams. Now Yahoo is extending these ads outside of its own properties through a content recommendation system that helps publishers promote their own stories.
Publishers place Yahoo's content recommendation box on their sites' article pages to highlight their other stories, but the boxes also include Yahoo's stream ads, which are featured as sponsored links.
Yahoo's content recommendation box can be found on Vox Media's SB Nation as well CBS Interactive's GameSpot and TV Guide sites. Like a traditional ad network deal, Yahoo is giving publishers a share of the money it makes from people clicking on the ads, according to a person with knowledge of the matter.
"CBS Interactive is using Yahoo to serve relevant content and ads across its network of premium content, " a Yahoo spokeswoman said in an emailed statement, declining to elaborate.
Yahoo's content recommendation box, which appears on both desktop and mobile sites, looks like the content marketing packages that companies like Outbrain and Taboola place on publishers' sites. Those appear near a page's main article and link to other stories from around the web that someone might be interested in reading. They also usually include links that companies pay for in order to promote their pages or brands. But Yahoo's box only shows the publisher's own content plus a Yahoo native ad.
The native ad network would be one way for Yahoo to take advantage of advertisers' interest in its so-called native Stream Ads and offset the company's years-long display revenue declines. Yahoo's Stream Ads have appeared within the content feeds on Yahoo's owned-and-operated sites since they were introduced in April 2013. Their placement and design - which closely mirrors the unpaid content for which people visit sites like Yahoo - have made them a hit among media buyers. Stream Ads accounted for 40% of the display ads Yahoo ran in the second quarter of this year, CFO Ken Goldman said during the company's most recent earnings call.
You might also like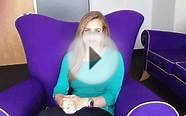 Yahoo! Partner Network Delivers More Reach For Your Search Ads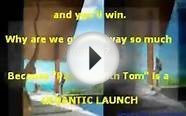 yahoo affiliate network - PartnerWithTom 50k Contest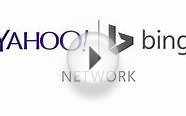 The Yahoo Bing Network is a Search Ad Must-Buy
ROID mail - Gets Yahoo Mail


Mobile Application (ROID Networks)




Access e-mail accounts ending in @yahoo.com, @ymail.com, and @rocketmail.com
View, Send, and Receive e-mail
Automatically Sync all changes to Yahoo!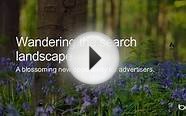 Welcome to advertising on the Yahoo Bing Network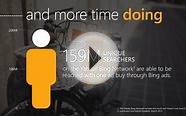 Bing Ads and Yahoo! Bing Network Audience
Earn Money With Yahoo Bing Ad Network.
PC USB 7.1 Sound Card Audio Microphone Adaptor


PC Accessory (ETHAHE)




Length x Width x Depth: 2.5 x 2.1 x 0.7 (6.3 x 5.3 x 1.9 cm)
Color: Black